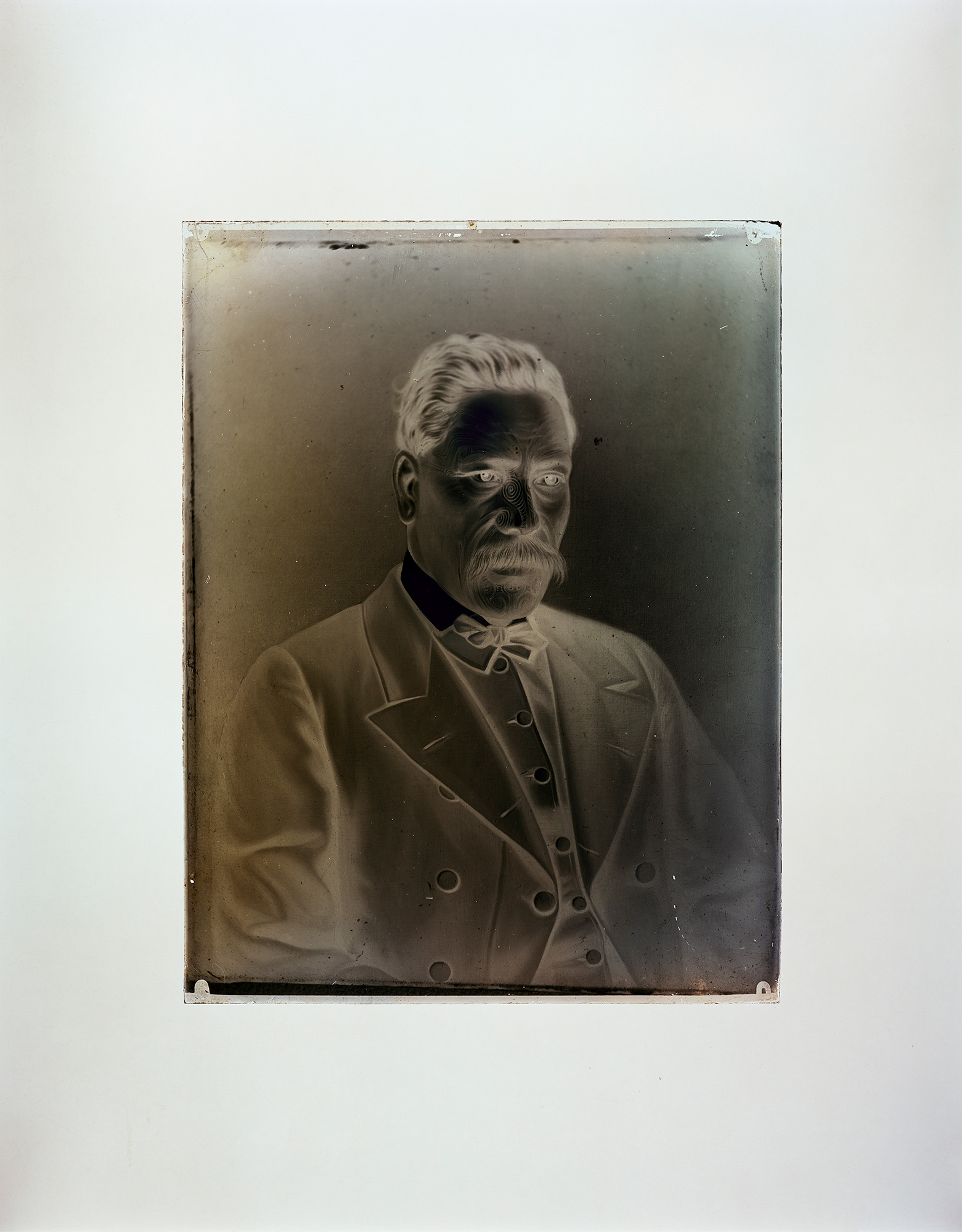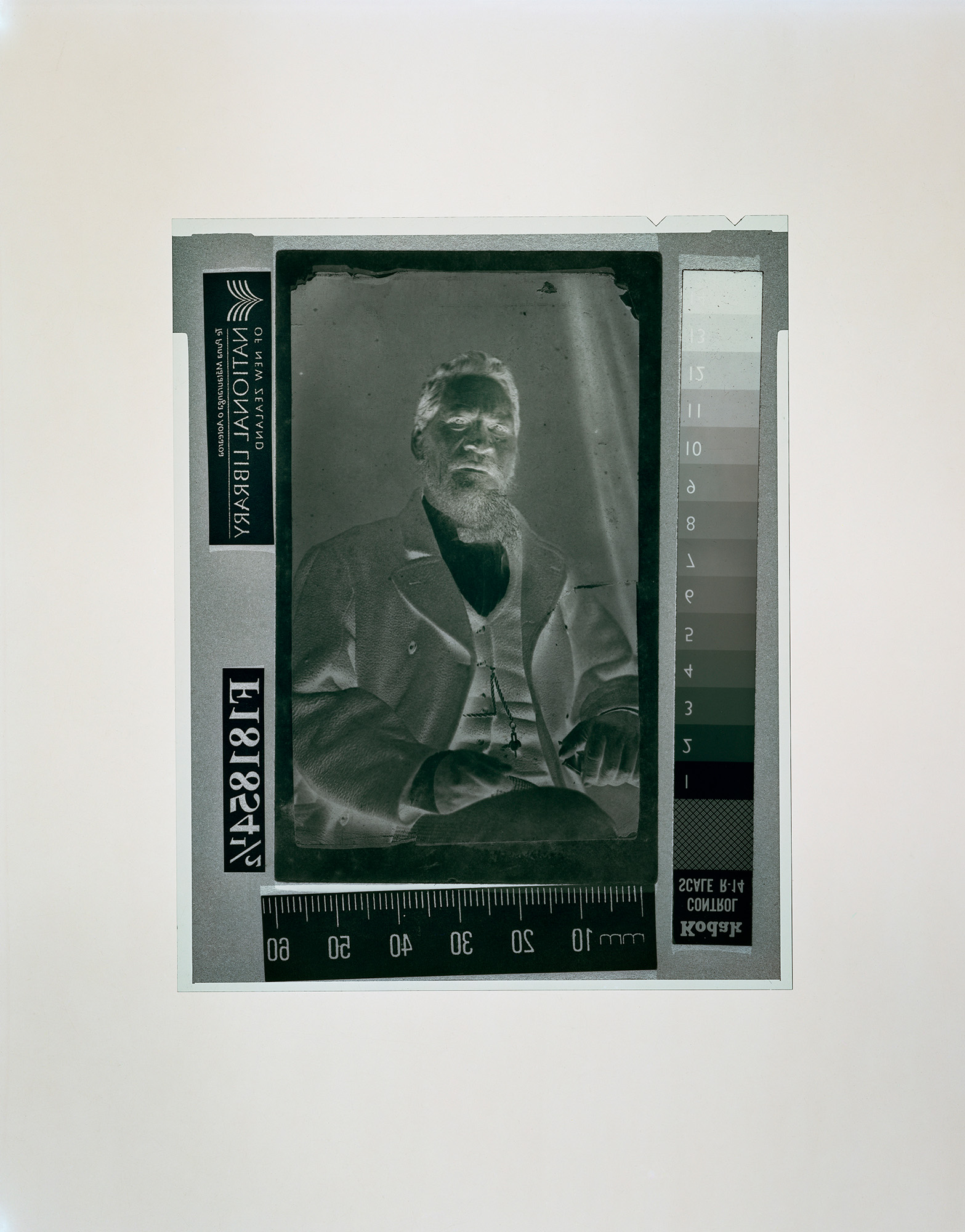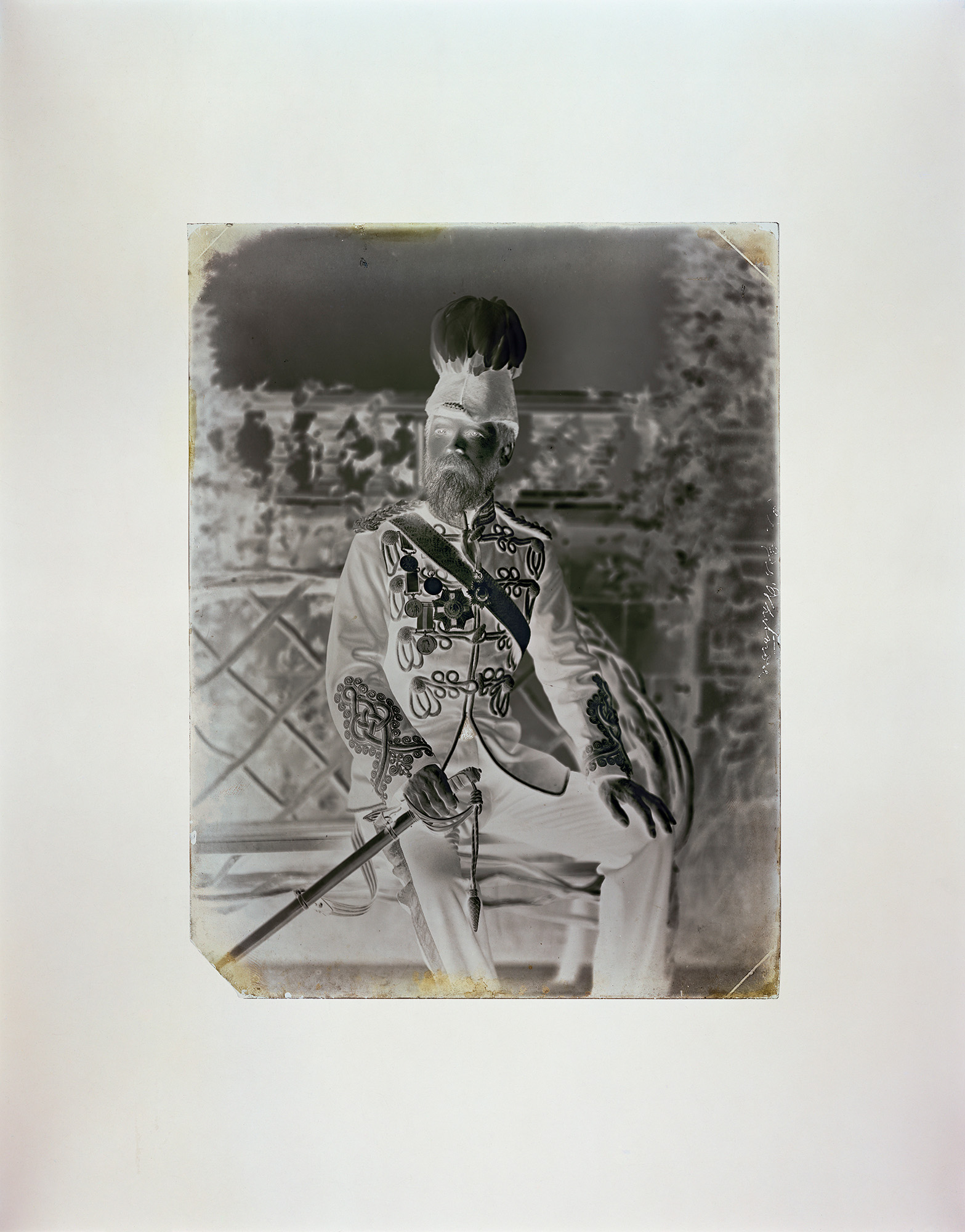 ŌMARUNUI
Exhibited on the 150th anniversary of the events at Ōmarunui.
On October 12th 1866, 200 militiamen and a similar number from local
hapū
surrounded a party of approximately 100
Pai Mārire
followers, mainly comprised of
Ngāti Hineuru
. After an ambigous response to an invitation to surrender, the occupied
kāinga
was besieged. Many Ngāti Hineuru were killed with the balance taken prisoner and exiled to
Rēkohu
, along with
whānau
who were taken prisoner at
Herepoho
near
Pētane
. Those events and the subsequent outcomes remain contentious; conflicting perspectives endure.
Photography was as an integral part of the colonial machinery. Works examine glass-plate negatives of the man who led the settler militia and portraits, by the Pākeha photographer Samuel Carnell, of chiefs involved in the attack. These negatives represent an interface between two cultures and because of a complex interplay that led to that image being made, they offer a refracted view of the folding together of Māori and Pākehā. While such portraits assert that these men are part of the nation's DNA, the dearth of images of Pai Mārire and Ngāti Hineuru represent an archival erasure. A battered negative from an earlier event, the siege of
Waerenga-a-Hika pā
, shows Pai Mārire prisoners. By virtue of being one of the few primary images remaining of Pai Mārire, it cements the branding of them as rebels.
In 1916, on the day of the 50th anniversary of the Ōmarunui events, veterans unveiled a memorial. The focal point was an eight-foot granite obelisk that was deliberately knocked off its pedestal many years later in the 1990's. This stone object—a corroded and prone power symbol— conveys that violent events are not contained or neutered by the passage of time. Rather, they reverberate in the present.
"... to see the complex layers of history; even to consider contemporary geo-political activities wherein monuments are destroyed and dominant narratives are revised and rewritten. It draws us into a dialogue that helps move us past the binary propositions of good and bad, rebel and loyalist.... to squeeze the festering historical pus of a century and a half of grievance and hurt out of the tribal corpus. With decaying matter removed from our wounds - and there clearly are wounds - the living flesh is encouraged to regenerate and reconnect.
"
2016 /
Essay
/
Narrations and Perspectives
/ Denis O'Rielly
"...the photographic residue of an event ... that has played its part in creating the 'natural order' of our condition in contemporary Aotearoa. ... the remnants of such events are real, and continue to fill our prisons and psychiatric hospitals. It is the natural order of things, unless we have the audacity to change them.
"
2016 /
Essay
/
The Natural Order of Things
/ Brett Graham
2016 /
Essay
/
Ōmarunui: Present Tense
/ Peter Ireland
2016 /
Essay
/
Ōmarunui: Artist Statement and He Kupu Whakamihi
/ Jono Rotman
2016 /
Opinion
/
Matthew Mullany: Looking back to look forward
/ Hawkes Bay Today
2016 /
Ōmarunui
/ Parlour Projects / Hastings, Aotearoa New Zealand