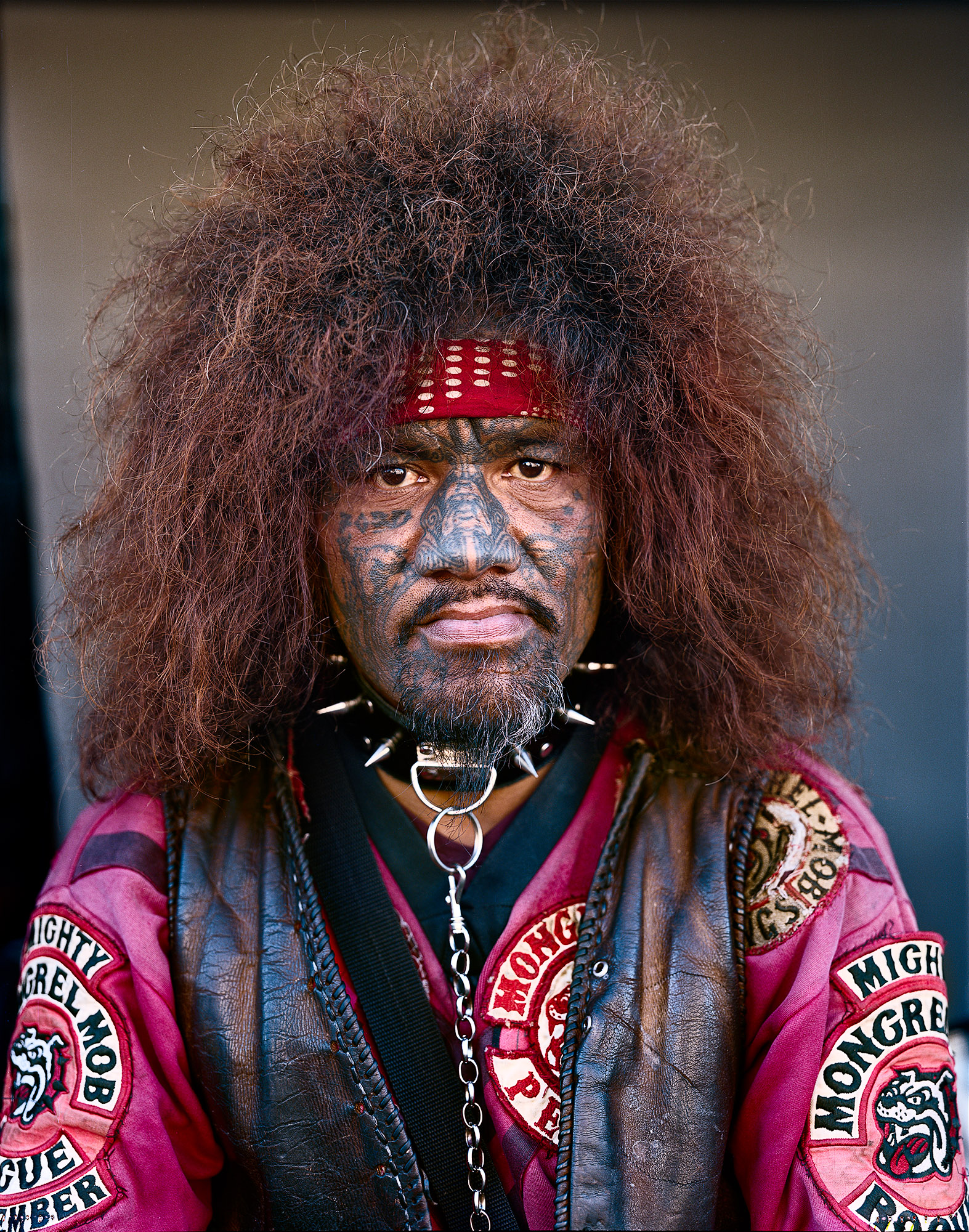 MONGRELISM
The Mighty Mongrel Mob of Aotearoa New Zealand are mythologised for extreme violence, and they have long been cast as the nation's monsters. In layers of apparent contradictions, their icon is the British bulldog and they wear Nazi symbols, while their members are largely Māori. The Mongrel Mob's symbols arose as both a goading response to a history of colonial subjugation of Māori, and a proclamation of loathing for the largely Pākehā (white, European) state.
Mongrelism
offers a communion with this impenetrable fraternity. Monumental portraits illustrate Mob members' assertion of membership and pride in their identity. Artifact studies and brutal first person narratives are drawn from the Mob corpus, mirroring the landscape studies that bare the brooding environments where Mob members live.
Mongrelism
examines how the gang brands itself to itself to uphold its hierarchy and history, and finds core values usually lauded by society: perseverance, resilience, and loyalty.
Mongrelism
is neither a history nor an ethnographic study. Rotman says he has "felt the weight of precedence of photography depicting people seen as other" and
Mongrelism
works to address photography's historical sense of entitlement. Rotman maintains transparency and consultation with the subjects in all use of the work. The result is a powerful body of work where the subjects, Rotman and the images maintain a fluid and equal relationship. Consequently, the images have become a part of Mob history and their visual mythology.
Mongrelism Book
"One of the functions of art is to transmit a reality that might be marginalised or missed in the cacophony of glib stimuli vying for our attention. Jono Rotman has carefully, respectfully insinuated himself into the culture of gangs, earning their trust. That trust is embodied in his portraits. His subjects' faces, tattoos, and insignia signify their alienation and marginalisation from mainstream society. The image of gangs portrayed to the general public is the incarnation of the white man's worst nightmare, the emergence of a threatening monster from the ashes of the 'noble savage' portrayed by Lindauer and Goldie. These portraits challenge us to ask: what are the hidden and untold stories that underlie them?"

2015 / Essay /
Dr. Ranginui Walker
/ Jono Rotman; Mongrel Mob Portraits / A City Gallery Publication

"Rotman works to strip away this generalised, media-generated image of gang identity. He uses the camera not to safely present or titillate normalised society with its criminal other but to set up a direct and confrontational encounter with a specific individual. Rotman goes through this encounter ahead of his audience.....These photographs have claimed and been granted an active role within the community they represent. It's here that Rotman's photographs do their work, as well as on the walls of art galleries, and, through this clash, on culture at large."
2015 / Essay /
Aaron Lister
/ Jono Rotman; Mongrel Mob Portraits / A City Gallery Publication

" .....why was the exhibition so wrought with discordance at what was depicted?"
2016 / Review /
Matariki Williams
/ Tusk Culture
2015 / Video /
Mongrel Mob Portraits Opening Powhiri
2014 / Television /
The faces of the Mongrel Mob – still art for art's sake? & Mongrel Mob photographer refuses grieving father's plea
/ TVNZ Seven Sharp
"The gravest threat our society faces is from cowardly artists. I realised just how much danger we were in this week while reading about a photographer named Jono Rotman."

2014 / Opinion /
Narelle Henson
/ Waikato Times
2017 /
Prix du Livre Images Vevey
/ Vevey, Switzerland
2016 /
Mongrel Mob Portraits
/ Gow Langsford Gallery / Auckland, Aotearoa New Zealand
2015 /
Mongrel Mob Portraits
/ City Gallery / Wellington, Aotearoa New Zealand
2015 /
Personalities: Fantasy and Identity in Photography and New Media
/ Palm Springs Art Museum, Palm Desert, USA
2014 /
Mongrel Mob
/ Gow Langsford Gallery / Auckland, Aotearoa New Zealand