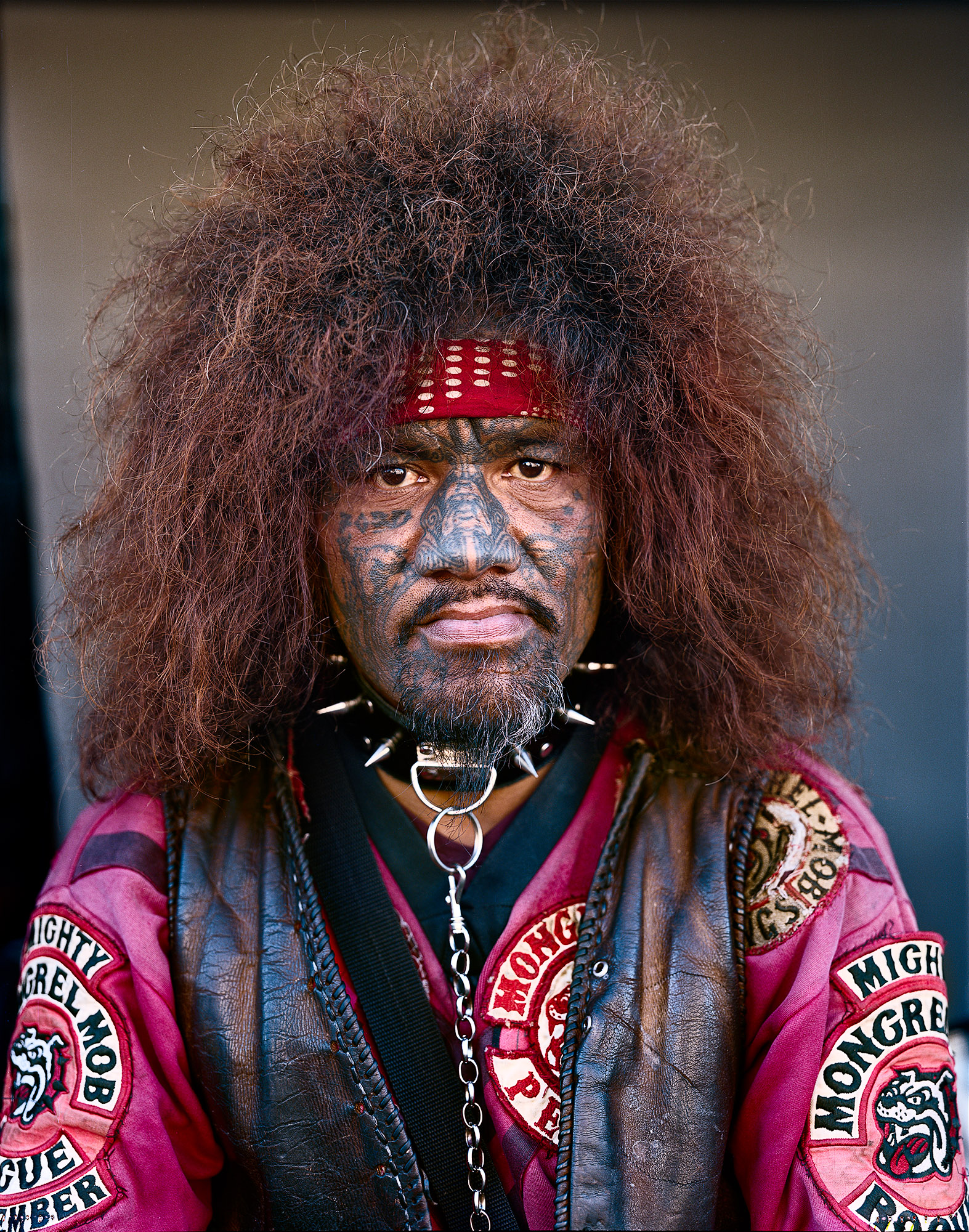 MONGRELISM
The Mighty Mongrel Mob of Aotearoa New Zealand are mythologised for extreme violence, and they have long been cast as the nation's monsters. In layers of apparent contradictions, their icon is the British bulldog and they wear Nazi symbols, while their members are largely Māori. The Mongrel Mob's symbols arose as both a goading response to a history of colonial subjugation of Māori, and a proclamation of loathing for the largely Pākehā (white, European) state.
Mongrelism
offers a communion with this impenetrable fraternity. Monumental portraits illustrate Mob members' assertion of membership and pride in their identity. Artifact studies and brutal first person narratives are drawn from the Mob corpus, mirroring the landscape studies that bare the brooding environments where Mob members live.
Mongrelism
examines how the gang brands itself to itself to uphold its hierarchy and history, and finds core values usually lauded by society: perseverance, resilience, and loyalty.
Mongrelism
is neither a history nor an ethnographic study. Rotman says he has "felt the weight of precedence of photography depicting people seen as 'other'" and Mongrelism works to address photography's historical entitlement of 'taking' images. Since beginning the work in 2007, he has maintained transparency and consultation with the subjects, they have been involved in the editing process, exhibitions and are consulted about all use of the work. The result is a powerful body of work where the subjects, Rotman and the images maintain a fluid and equal relationship. Consequently, the images have become a part of Mob history and their visual mythology.
Mongrelism Book
2017 /
Prix du Livre Images Vevey
/ Vevey, Switzerland
2016 /
Mongrel Mob Portraits
/ Gow Langsford Gallery / Auckland, Aotearoa New Zealand
2015 /
Mongrel Mob Portraits
/ City Gallery / Wellington, Aotearoa New Zealand
2015 /
Personalities: Fantasy and Identity in Photography and New Media
/ Palm Springs Art Museum, Palm Desert, USA
2014 /
Mongrel Mob
/ Gow Langsford Gallery / Auckland, Aotearoa New Zealand
MONGRELISM BOOK
205 x 260 mm, 380pp
152 photographs
Text: 16 'barks', 2 hakas and 1 waiata
Photography by Jono Rotman
Transcripts by Jono Rotman
Offset lithoprint on coated and uncoated paper
Library buckram cased hardback, with tipped in foiled illustration on library buckram
2 gatefolds, 3 tipped in fold-outs
Co-published by Here Press, London and Images Vevey, Switzerland
Edition of 1500
ISBN: 978–0–9935853–8–8
The publication takes the form of a gang handbook. The order and grouping of images is the result of consultation with members and hews to their geographic, familial, and hierarchical relationships. An unedited Mob voice dominates the written section.
"Mongrelism is a taonga among photobooks in Aotearoa."
2019 / 01 Sep /
Review
/
Peter Black
/ PhotoForum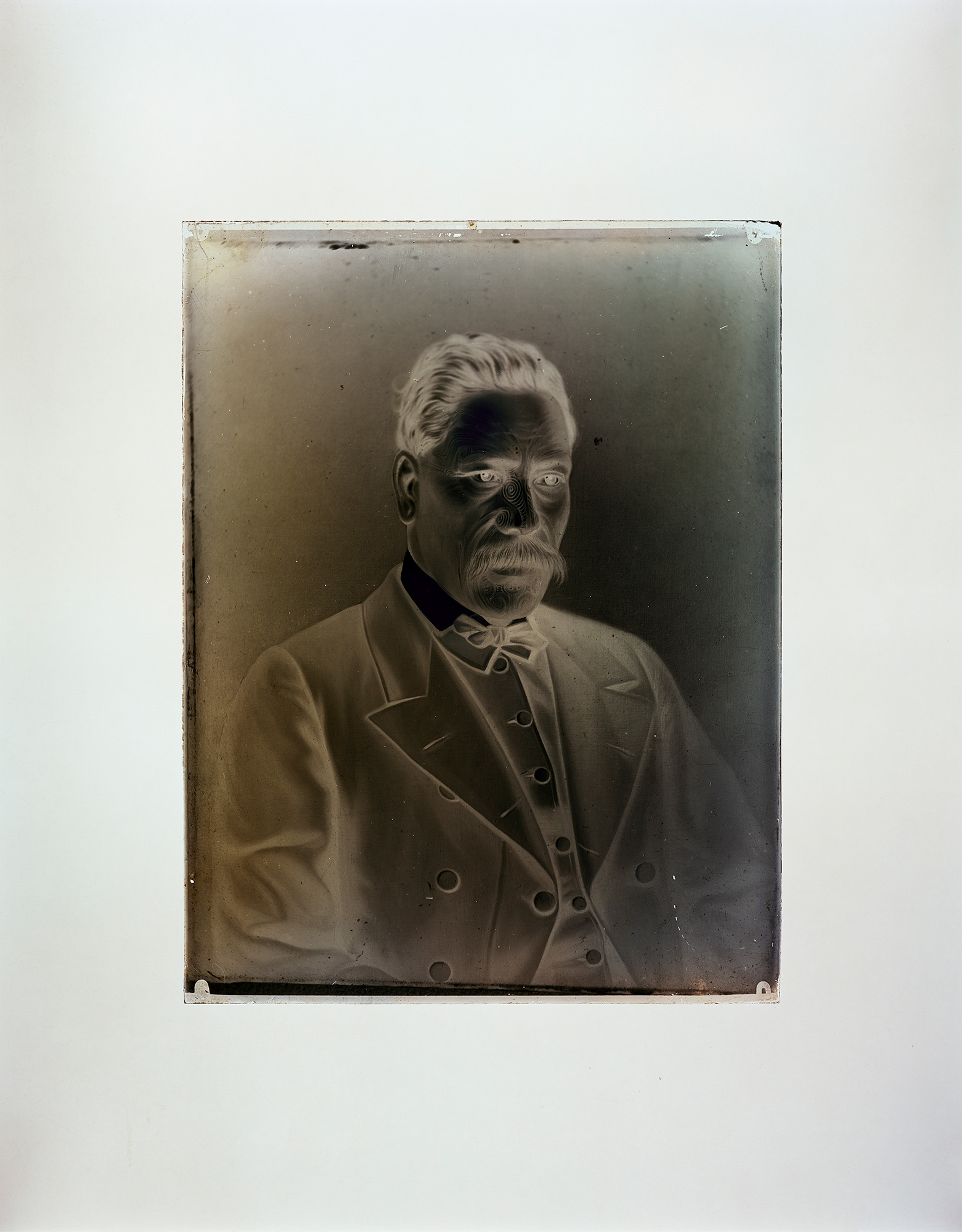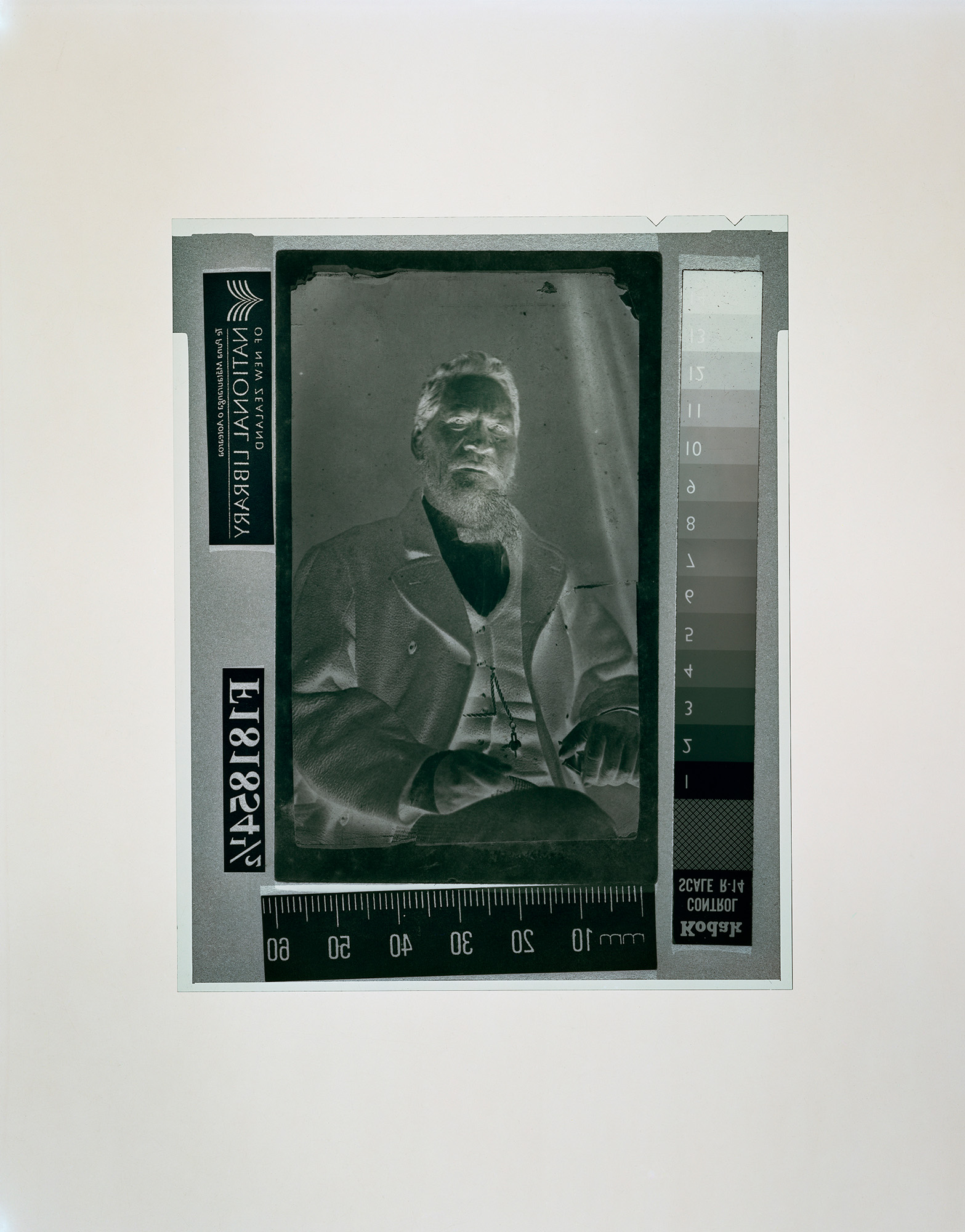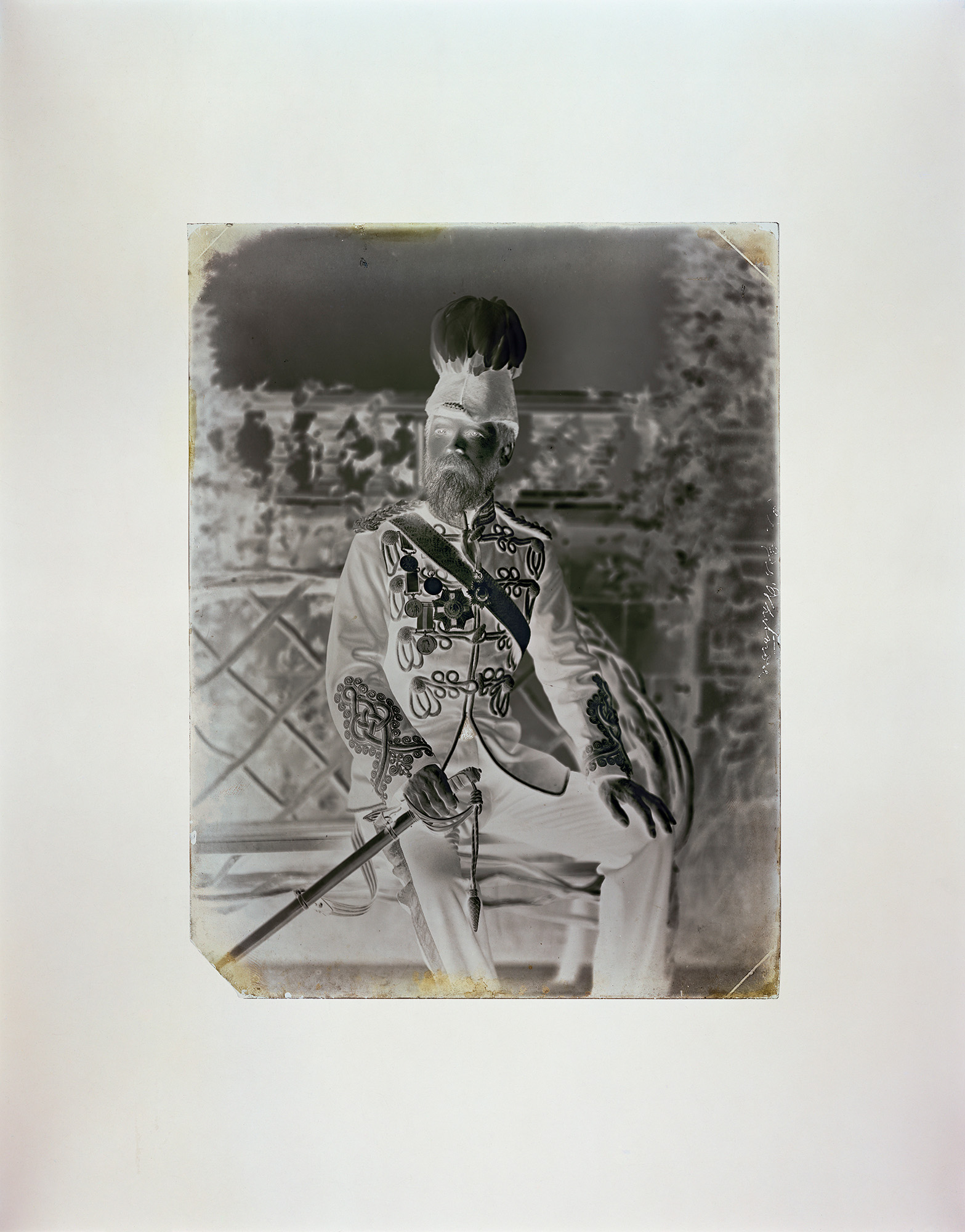 ŌMARUNUI
From 2000 to 2005, I photographed interiors of Aotearoa New Zealand
prisons and psychiatric hospitals
and since 2007, I have worked on a large body of work with the
Mighty Mongrel Mob
. By revealing the strains and legacies of a colonized and bicultural society, both series have led me to consider more closely my own relationship, as a fifth generation
Pākehā
, to the history of modern
Aotearoa New Zealand
.
My matrilineal forebears came from the British Islands and settled in Hawkes Bay in the mid-19th century. My great-great-grandfather built a large house on the flank of
Ōtātara Pā
in Taradale. The family's day-to-day existence would have depended on interactions with local hapū and I've found photographs of Māori in family albums: men dressed in European uniforms, families living on the grounds of the estate, and women sitting on a
whare
stoop with Pākehā men's arms around them. During this period, an implacable future was transforming the pre-European ways of Aotearoa and my forebears were a part of this process. This relationship—between
Māori
and Pākehā—is the fundamental cultural dynamic of modern Aotearoa New Zealand and is a primary line of enquiry in my work.
My current work harnesses the prismatic view afforded by old photographs. The approach has been to treat period prints and glass-plate negatives as venerable objects, and photograph them as such: not only as images, but also as physical residues of the past. By surviving the passage of time, each piece represents a haptic connection to the ecology from which it was emitted and is an avatar of the historical, ideological and interpersonal dynamics of its era. A glass-plate negative was in the same space as the subjects depicted and the chemical emulsion was not only touched by their projection, it also shared their oxygen. Each making of a photograph was thus an act of transference. When using an 8x10 analogue camera to make my images, I feel the subject is absorbed into my film. This visceral communion is amplified by the monumental, finely detailed prints I exhibit. The old likenesses within these large photographs of photographs are an initial and arresting facet, but on closer inspection, the faces disintegrate and are usurped by the topography of the photographic object. Every crack and erosion bears testament to the distance travelled by the filmic entity.
In February 2016, I produced a suite of images that draw on the events at Ōmarunui in1866. On October 12th, 200 militiamen and a similar number from local
hapū
surrounded a party of approximately 100
Pai Mārire
followers, mainly comprised of
Ngāti Hineuru
. After an invitation to surrender was rebuffed, the occupied
kāinga
was besieged. Many Ngāti Hineuru were killed with the balance taken prisoner and exiled to
Rēkohu / the Chatham Islands
, along with
whānau
who were taken prisoner at
Herepoho
near
Pētane
. Those events and the subsequent outcomes remain contentious; conflicting perspectives endure. My forebears were geographically close and although perhaps not directly involved, they arguably benefitted from the outcome. Beyond my ancestral proximity, I feel that the events at Ōmarunui are a microcosm of the wider tectonics of that period in the nation's history, and hold relevance to this day.
The six works I am exhibiting are an attempt to distill and transmit the forces that met on that day. Five works examine glass-plate negatives from the Alexander Turnbull Library. Four of these are portraits, including the man who led the settler militia and portraits by Samuel Carnell of three of the chiefs involved in the attack. As a technology, photography can be viewed as a small but integral part of the colonial machinery that changed the country so dynamically. Carnell's negatives represent an interface between two cultures and because of a complex interplay that led to that image being made, they offer a refracted view of the folding together of Māori and Pākehā. The three chiefs, while bearing the carved lines of traditional
tā moko
on their faces, are dressed in European garb. While such portraits assert that these men are part of the nation's DNA, the dearth of images of Pai Mārire and Ngāti Hineuru represent an archival erasure. A fifth photograph in the exhibit is from an earlier event, the
siege of Waerenga-a-Hika pā
. The battered negative shows Pai Mārire prisoners on the Napier foreshore, evoking the atomization of their people and, by virtue of being one of the few primary images remaining of Pai Mārire, cements the branding of them as rebels. The sixth image is the only one not of a negative. In 1916, on the day of the 50th anniversary of the Ōmarunui events, veterans unveiled a memorial. The focal point was an eight-foot granite obelisk that was deliberately knocked off its pedestal many years later in the 1990's. Photographing this obelisk—a corroded and prone power symbol—enables an exploration of the idea that violent events are not contained or neutered by the passage of time. Rather, they reverberate in the present.
My photographs are pictures of pieces of tarnished glass, and while I have ownership over my artwork, I cannot assert the same for the
tīpuna
depicted within. To this end, I have engaged descendants of those depicted in each image, in order to develop an ongoing relationship between that particular work and those related to it. With the Ōmarunui work, I aim to encourage conversation about the enduring impact of such events. By involving the descendants of those depicted, I hope for the work to be of most use to those directly related to it, adding dimensions to the evolving relationship with history and nourishing a present that is inextricably connected to difficult events in the past.
2016 /
Ōmarunui
/ Parlour Projects / Hastings, Aotearoa New Zealand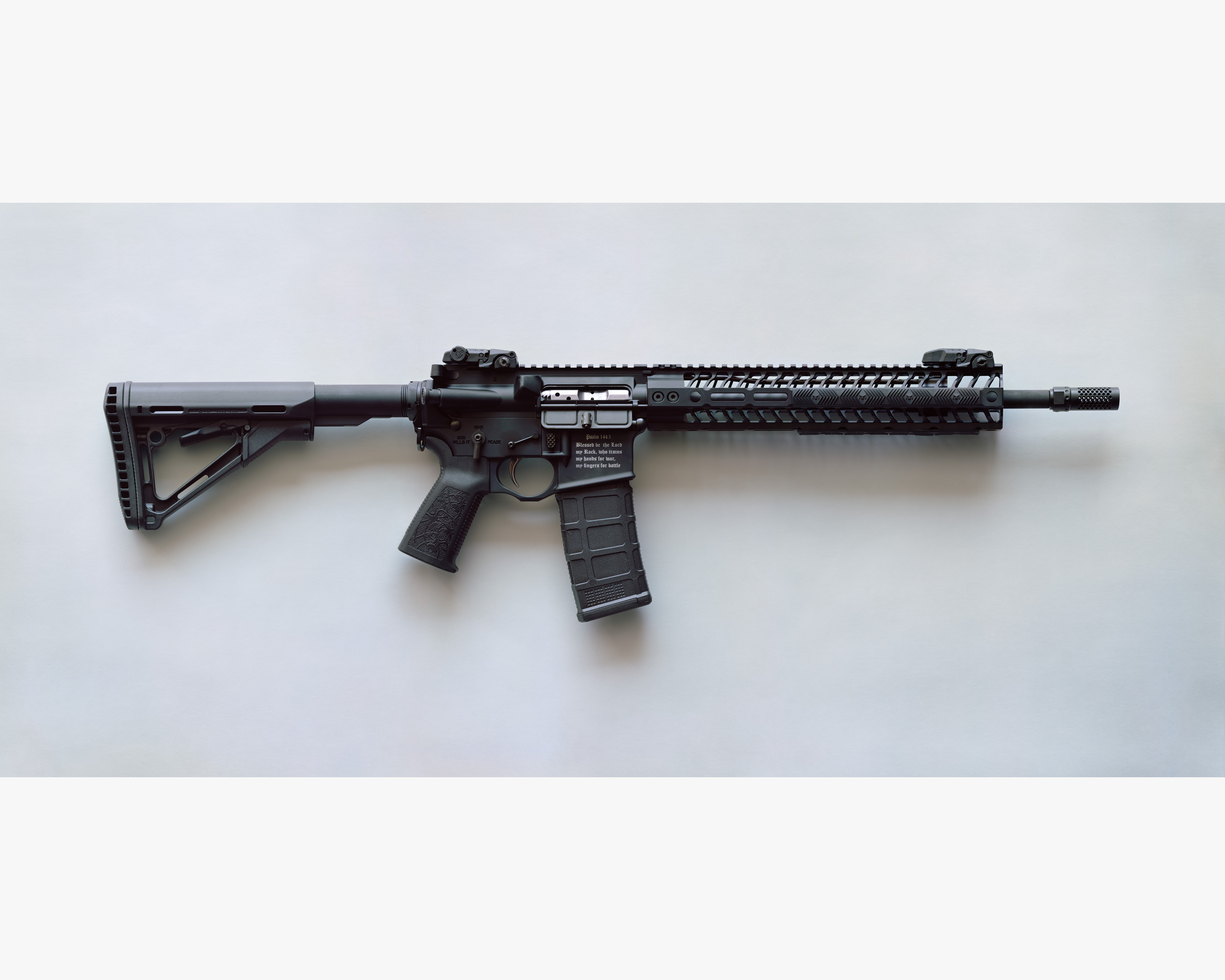 MATÉRIEL
Out of the nothingness of night they tell
Our need of guns, our servitude to strife.
1
These photographs are part of a collection of work exploring the shifting violent ingredients of the American Empire. In the United States, where Rotman lives, weapons are pervasive and mass-produced, but also polarizing. For some, they are a focus of zealotry, representing freedom and hegemony. For others, they mean damage and fear.
In this work, these efficient and utilitarian products
2
become vessels that represent the distillation of our aspirations and our fears, tools to allow us to better scrutinize the ideology they embody; the weapons are both seductive and chilling. They can be thrilling, but are designed to injure, defeat, or destroy. The finely detailed photographic studies strip the guns and bombs of rhetoric to expose the inherent tension in their being: that we have engineered these things to kill ourselves.
Matériel
asks: is our thrall to weapons innate? Do these artifacts represent a cultural zenith or will they prove to be totems of a species brought to collapse by its own hubris?
1
A Prayer from 1936
/ Siegfried Sassoon
2
Each work depicting a gun is titled with its UPC (Unique Product Code).
2017 /
Matériel
/ Gow Langsford / Auckland, Aotearoa New Zealand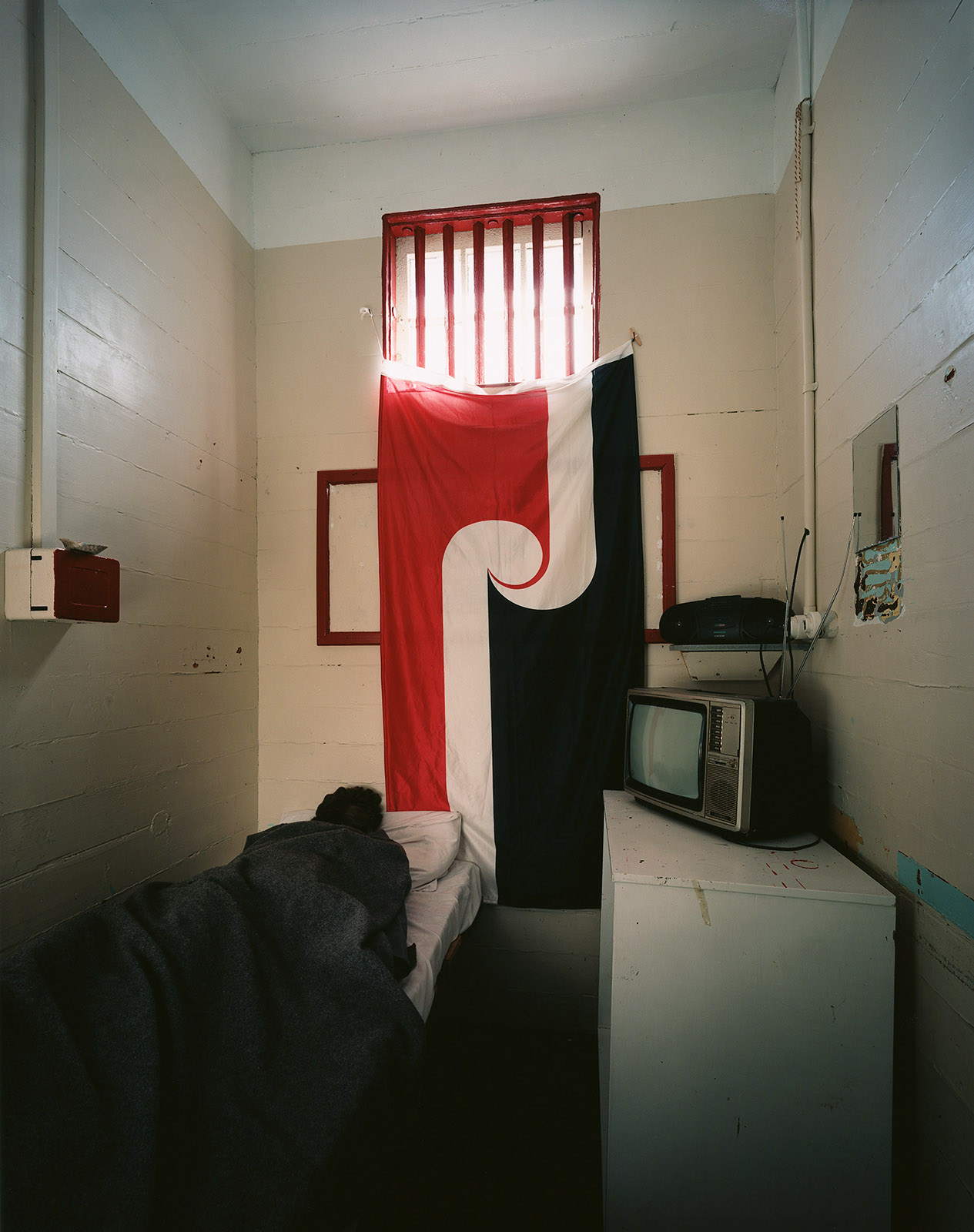 CHAMBERS

For the fate of a boobhead is

That men do him bind

And plant him in the digger

Till he goes out of his mind,
-
James K. Baxter
Chambers
is the empirical response to the idea that photography can transmit the psychic climate of an architectural environment.
Prisons and psychiatric hospitals are the acme of architectural control. As physical manifestations of ideology, heirachy and state control, they are among the purest expressions of power. These spaces force a specific set of experiences upon the inhabitants, whose cumulative emotional responses palpably steep the spaces' atmosphere.
Produced between 2000 and 2005,
Chambers
is a comprehensive appraisal of the interiors of the prisons and psychiatric hospitals of Aotearoa New Zealand, both active and abandoned to ruin. Void of people, the large-format photographs are exhibited large as life. Viewers are forced to place themselves within the spaces depicted , gaining a visceral sense of a place they might not normally experience.
(100+ 8X10 colour negative interior studies + detail studies. First-person narratives.)
2005 /
Still Present: Exploring Psychiatric Institutions in Photography.
Adam Art Gallery, Wellington, Aotearoa New Zealand
2003 /
Interiors
.
McNamara Gallery
, Wanganui, Aotearoa New Zealand
2001 /
Parallel Worlds.
Adam Art Gallery, Wellington, Aotearoa New Zealand & Centre for Contemporary Photography, Melbourne, Australia
2001 /
Art Futures.
Pataka Gallery
, Porirua, Aotearoa New Zealand.


SORTILEGE